Schi&Bike
Zimmer&Appartement
St. Corona am Wechsel
If you are looking for a perfect holiday experience with unforgettable memories, then you have come to the right place. Let us plan a suitable stay for you.
Our house is only 1 minute away from the adventure arena (Erlebnisarena) and the popular summer toboggan run. You can easily reach the Wexl Trails directly by bike after 300m.
It is particularly important to us to make your summer or winter holiday in St. Corona am Wechsel the most beautiful days of the year through personal care and a family atmosphere, and we would be delighted to welcome you as our guests in Weibels guesthouse.
Come to us and you will be amazed.
Weibel family
Welcome
At Weibels Ski&Bike Room&Apartment!
We are a sports-loving family with three children and originally come from Hungary. We moved to the wonderful mountain world, to St. Corona am Wechsel.

Our guests can live out the wide range of sports and leisure activities (biking and skiing) for all age groups in summer and winter. We are also happy to pass on one or the other "insider tip" to our guests.
We welcome everyone
If you are looking for a relaxing, refreshing and rejuvenating experience, then St. Corona am Wechsel is the place to be. Our accommodation is particularly suitable:
For cyclists
Mountain bike trails are only 300 m away from us. What else we can offer:
lockable bicycle storage room
usage of tools
technical support
possibly bicycle service
Bicycle training and guided tour at 1700m altitude with e-bike (Hochwechsel, WU) - in English and German, by prior arrangement
For mountain runners and hikers
Mountain hiking trails of different levels of difficulty in beautiful surroundings and great views.
Teambuilding-Trainings
Gather at our accommodation with your company colleagues or cycling club members to spend time together. Strengthen your community with active recreation or the countless activities in the area.
For less experienced skiers
Ski resort most recommended for beginners and small children.
Adventure arena (Erlebnisarena) family ski area in St. Corona am Wechsel awaits you with flat slopes, a sledge track and a toboggan run.
Relax in our hot tub after exercise or just at the end of the day.
Impressions
Check out some beautiful pictures taken in and around our pension and place.
What our guests say
We pride ourselves on providing the best experience for our guests. Read what they say.
So when you go skiing the ultimate dream location is right on the slopes? This is the same but for an MTB. The first trail "Bergabradweg" is right next to you and to reach it you don't even have to pedal. The top lift station where "Single Trail", "Downhill Trail", "Flow Trail", "Jump Line" start is 3 minutes of pedaling away. When you finish riding in the bike park (or want to pick something up from the apartment) just go with a lift to the middle of the mountain and ride down the "Bergabradweg" trail something like 30 vertical meters which will take you 60 seconds. You can go up the mountains too and make a whole day trip which is absolutely amazing. If you are with kids and you have gear like MacRide or Tout Terrain Streamliner the whole mountain is yours. The summer toboggan run is 2 minutes away on foot. So if you are with kids they will absolutely love it. The food in the restaurant next to the property is good. There's a playground next to the restaurant. If you would really dislike the weather you can go to the cave "Hermannshöhle" which is 10 minutes away with a car. The apartment we stayed in had a fully functional kitchen with a stove, oven, fridge, dish washer and many others. We did our groceries in "Aspang Markt" in Spar super market which had VERY good selection of food. At the bottom station there is the biggest playground (agility track?) for kids I have ever seen. The apartment and the whole building is much cleaner than anything I have ever seen. It's clear that they put a LOT of work there to keep the guests happy. The owners are very nice and extremely helpful. If your bike gets busted they have a lot of tools to help you there. They are very flexible and relaxed so if you need anything just ask. The whole place feels like home. It's really cozy there. And last but not least the coffee.
Cozy, tidy apartment located in a superb surrounding in close proximity to the Wexl bikepark. Very friendly and helpful owners. An accommodation, you will definitely want to visit again.
Located next to a restaurant and the Wexl Trails. It is just what I needed. The whole house was spotless, rooms were perfectly ready for a guest's arrival, equiped with everything needed.
Very nice, spacey and cozy apartment on the highest floor. Very well equipped kitchen. Awesome location in the middle of bikepark. Bike room (storage) equipped with tools for free. Host is cool guy.
Wexl Trails info
Wexl Trails is in our neighborhood. There you can have many unforgettable experiences.
Trailspark Wexl Trails
Information about the trails: Flowtrail, Skillsline, Uphill Flowtrail, Singletrail, Mini Bikepark, Pumptrail and Panoramatrails...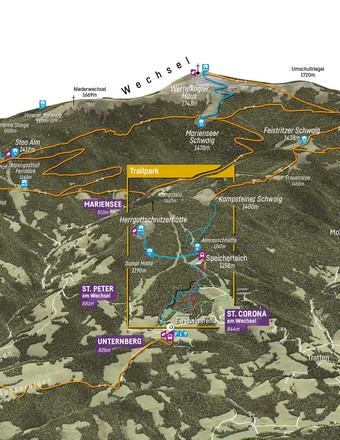 Trailmap
The Wexl Trails in St. Corona am Wechsel are a paradise for mountain bikers of all ages and skill levels and an Eldorado for dashing e-bikers.
Mountainbike Events
Here you will find information about the upcoming Wexltrails events. It starts again…
Jumpline is open
Biking is a great pastime in times of Covid-19. Sports freaks, families and weekend bikers will now get their money's worth on the new jump line in St. Corona am Wechsel. The Wexl Trails with the jump line are a new attraction in the winter sports area.
Plan an unforgettable experience in St. Corona am Wechsel today!
We can help you fit your stay and experience into your budget.